MY-CO SPACE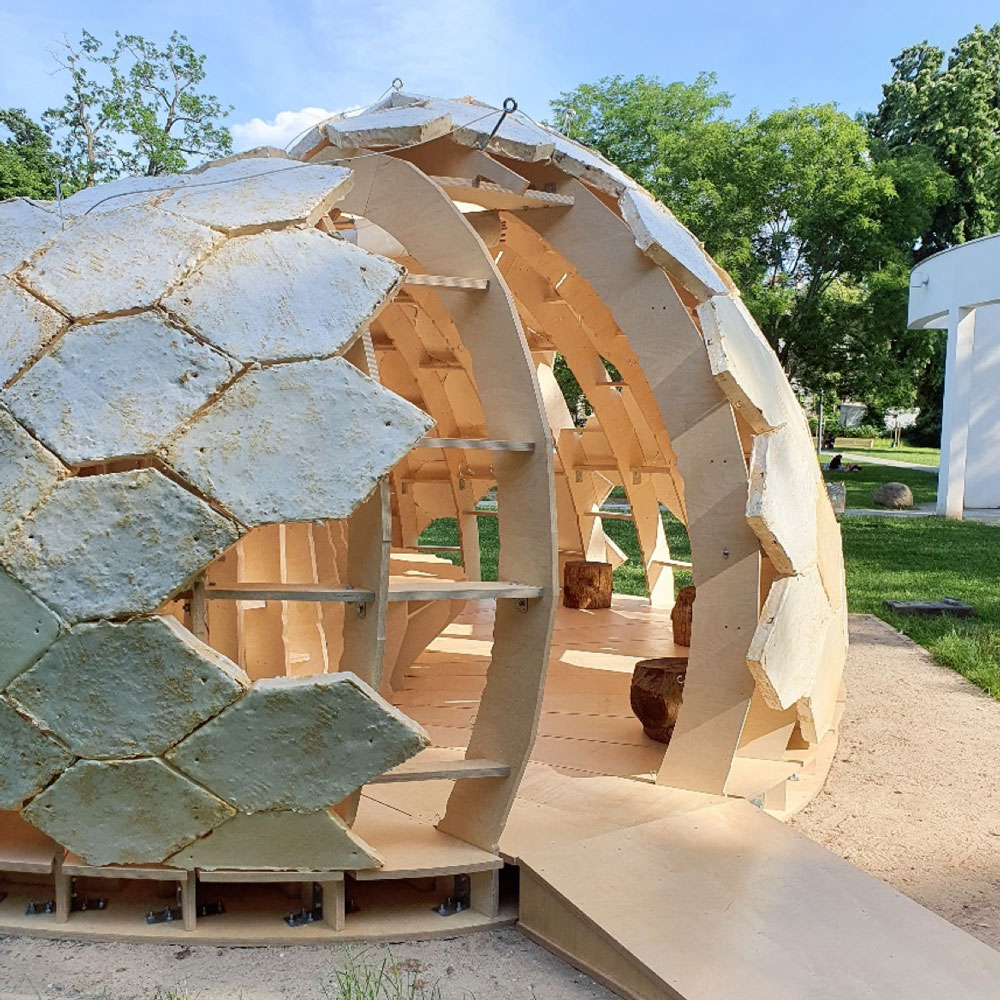 MY-CO SPACE is a collaborative work of the interdisciplinary ArtSci collective MY-CO-X.
It was developed in collaborative cooperation with fungi (lat. mycota). It enables an artistic-scientific discussion about a future social significance of fungi for the creation of places and spaces.
A wooden fungal sculpture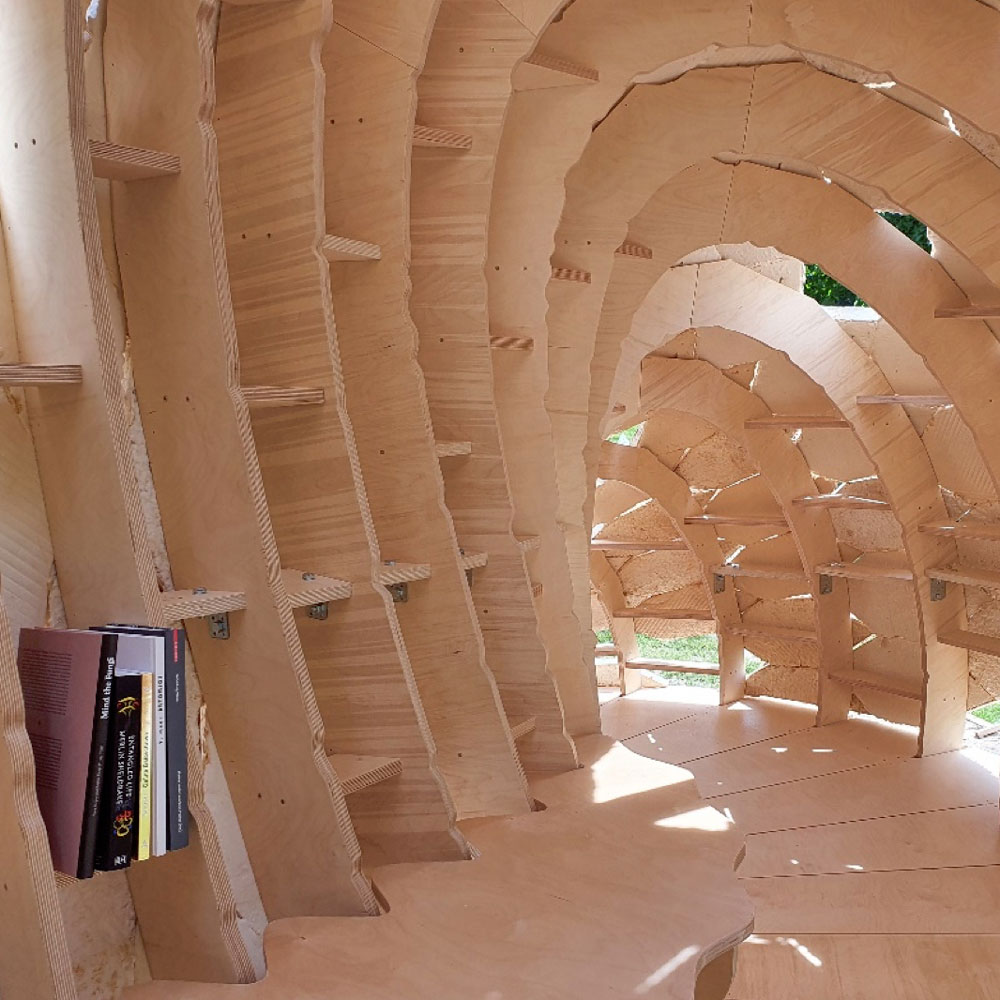 MY-CO SPACE is a wooden fungal sculpture that makes it possible to experience living in a space capsule as well as in a fungal fruiting body, a mushroom.
The wooden construction with fungal panels was built from biological materials and is therefore biodegradable. The living space of approx. 20 sqm, can be divided by the guests themselves into sleeping, reading and working areas. In a box, 2 camping mattresses and 1 two-man tent with mosquito net are provided. These can be set up and positioned by the guests in or next to the sculpture in Metzlerpark, so that they can help decide on the use of the sculptural living space and are thus co-designers for one night. Another box contains fungal study materials, books, a microscope and a telescope that enable immersion in the fungal microcosm as well as the macrocosm that surrounds us. A guest book can be used to document the experiences and insights gained in the process. MY-CO SPACE is not a completely enclosed space but a retreat and study space that lives from and deals with contact with the outside world.
An inhabitable sculpture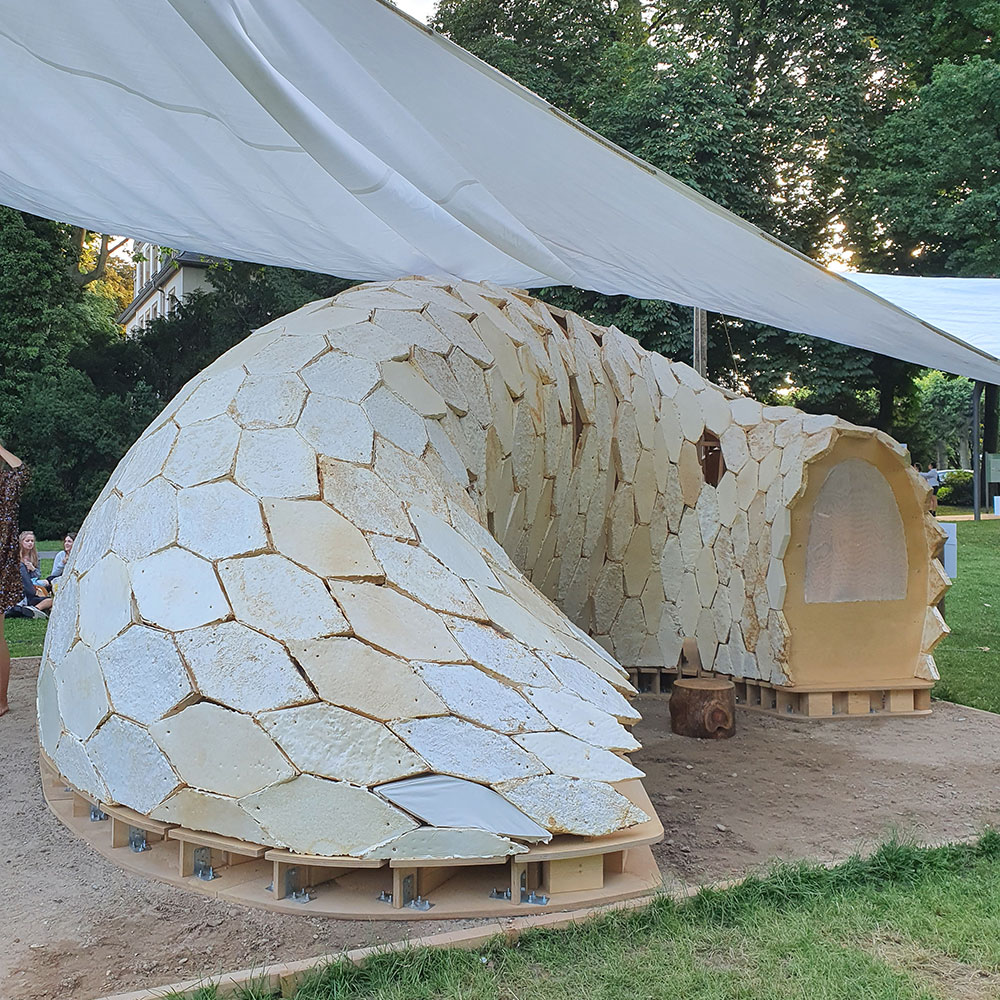 MY-CO SPACE is an inhabitable sculpture reminiscent of a space station and transports the work of Galina Balashova (born 1931), the architect of the Soviet space programme, into the 21st century.
Galina Balashova was responsible for the interior design of the manned spacecraft Soyuz and the Mir space station and was involved in the Apollo-Soyuz programme, the first peaceful US-Soviet cooperation in space travel. Her central design question in the 1960s-1980s was: "How can physical-technical structures and essential living functions be integrated in the smallest space in such a way that people can live and work under conditions of weightlessness and extreme physical stress?"
MY-CO SPACE as a sculptural habitat translates this question to today's challenges of humanity: "How can biological-technical structures and essential living functions be integrated in the smallest possible space in such a way that people can still live and work light-hearted under conditions of limited resources?"
A symbol of increasing nomadism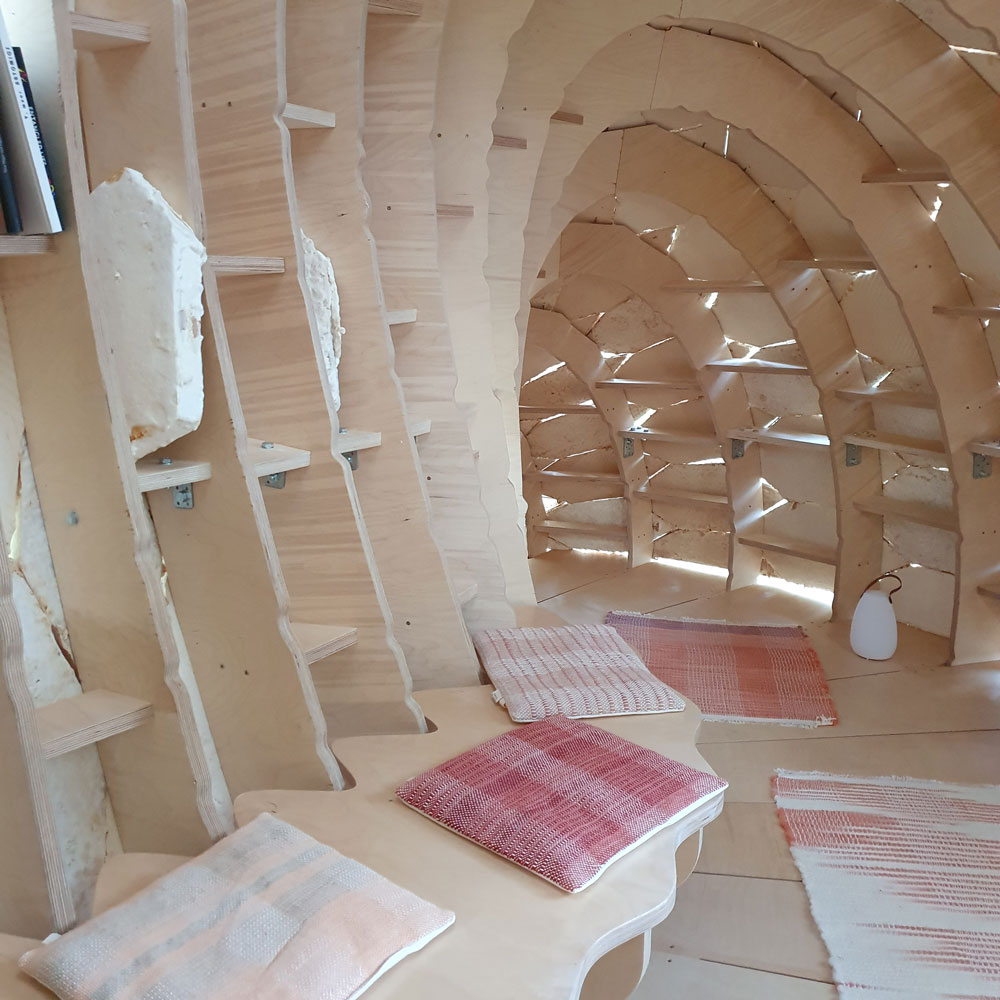 MY-CO SPACE symbolises the increasing nomadic existence of many people in the future.
And it translates the transformation process that fungi enable in nature – the deconstruction and reconstruction of organic material – into a utopian living space that is characterised by symbiosis with fungi and recycling of resources and has come into being through collective action. A journey of thought into the microscopically small but macroscopically perceptible world of fungi is initiated and is the starting point for an examination of networks and agents that cooperate across species boundaries and can therefore function sustainably. With minimal equipment, MY-CO SPACE meets the needs of its inhabitants through fungal products. One lives sheltered in a mushroom-wood house, sits on tree trunks that only hint at fungal growth or clearly show it, as sporadic fungal fruiting bodies can be seen, cushions are made of textiles dyed with fungal pigments. The wooden construction – the skeleton of the sculpture – follows the lamellar geometry of a fungal fruiting body and magnifies the view of fungus-eating snails and insects on their favourite food into a dimension that is comprehensible to us humans. In addition, a microscope can be used to observe fungal mycelia built into the sculpture as well as fungi in the Metzlerpark in their network formation and also to perceive them sensually themselves. A telescope enables contact with the outside world and the macrocosm.
MY-CO SPACE | Making-of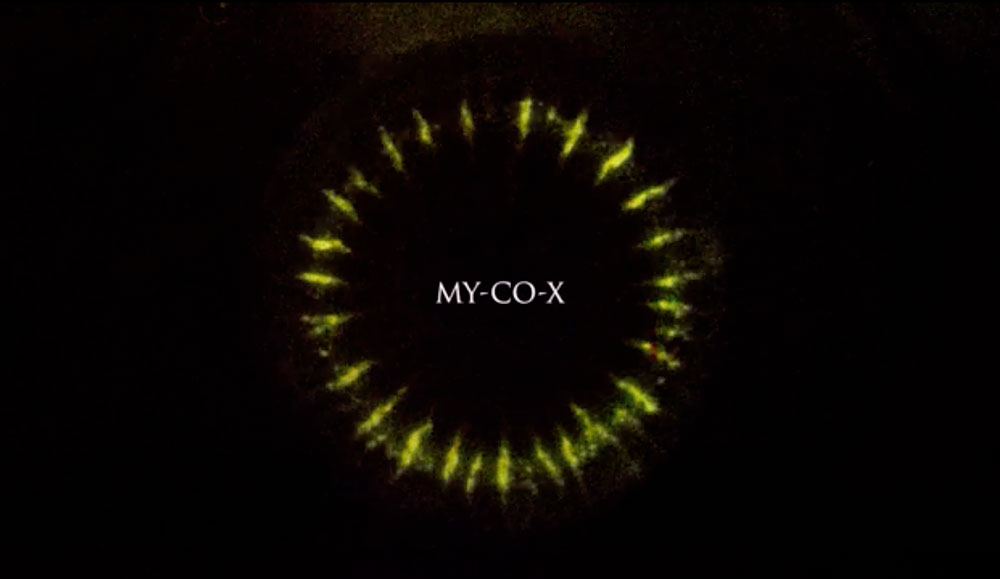 MY-CO SPACE | Designing for Co-Habitation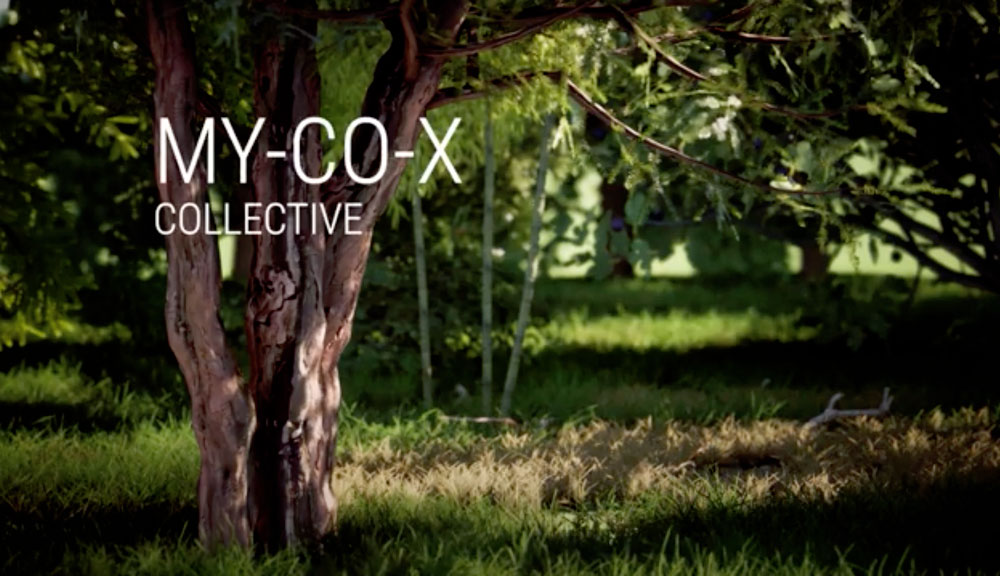 MY-CO SPACE | The World of Fungi